Finding the world position of the first point of a grid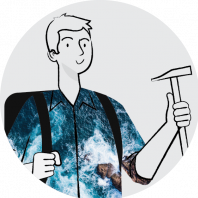 LotfiMira
Posts: 9

Hi,
I have a grid .grd and .gi files. The coordinate system is UTM.
How can i compute the UTM location of the first point of the grid?
In the following example, i fetched the following properties:
SAMPLE GRID
GXIPJ::get_orientation_info()
- plane origin (x; y; z) = (0; 6.678.350; 0)
- azimuth = 90
- swing = 0
GXIMG::get_info()
- x y location of first point = (410.225; 4.125)
- x axis rotation = 0
GXIPJ::has_section_orientation()
- section orientation = TRUE
When I open the grid in Oasis viewer, the location of the bottom left corner is roughly:
x = 410.256
y = 6.678.350
z = 4.119
I assume plane origin (0; 6.678.350; 0) is UTM.
Then I need to add location of first point (X = 410.225; Y = 4.125).
But why add X to the 1st term and Y to the 3rd term? I can't figure out.
Also, what is the difference between rotation, azimuth and swing?
Thanks.
Lotfi Mira
Comments
This discussion has been closed.